---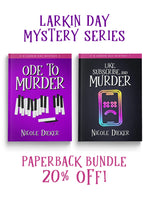 Sale
Larkin Day Mystery Series Bundle
Nicole Dieker
Sale price $20.00 Regular price $25.98
JCC-Exclusive Discount!
Get the first two novels in the Larkin Day Mystery series and save over 20%!

---
Book 1: Ode to Murder
240 pages
5.5" x 8.25"
Includes hand-signed bookplate (while supplies last)
Join Larkin Day on her first mystery!
"A smart, snarky series... Cozy mystery readers will adore Larkin Day." - BookLife, Editor's Pick
"...an entertaining whodunit with a captivating amateur sleuth." - Kirkus Reviews
"Ode to Murder is refreshing, and definitely recommended for fans of a good mystery. But it's also a great read for anyone who, like Larkin, is searching for a new story that can reach them in surprising, unexpected ways." - IndieReader
Larkin Day just moved back home—at 35 years old. With no money, no job prospects, and nowhere to live except her mother's guest bedroom, Larkin is pretty sure this is the worst thing that's ever happened to her.
Then her mother signs her up for community choir.
Then the accompanist asks her out—and stands her up.
Then he turns up dead.
Larkin didn't kill him, of course—but she quickly learns that there are plenty of other women who might have wanted him gone. Although Larkin never planned on becoming an amateur detective, she finds herself getting more and more involved with the death of Harrison Tucker—while making new friends, setting her mother up with a local police officer, tackling six figures of student loan debt, discovering the benefits of protected bike lanes, and learning what ingredients are (and aren't) in a scotcheroo.
A fast-paced, cleverly-plotted mystery that includes both Beethoven and baking, Ode to Murder is for cozy fans who have been hoping to find a Millennial-aged amateur detective who practices old-fashioned sleuthing in a world of smartphones and social media.
Solve the mysteries and save money—what could be better?
---
Book 2: Like, Subscribe, and Murder
Join Larkin, Ed, and Anni as they solve a social-media murder!
"Dieker builds strong and relatable characters… Full of surprises… Readers will be absorbed…"
– Publishers Weekly
"Dieker's prose is tight, sharp, witty, and enjoyable. The mysteries are well put together and fun… packed with some scares, thrills, and a fantastic cast."
– Horror DNA
Larkin Day is doing great. She's gainfully employed, she has a kinda-sorta boyfriend, and she let her best friend Anni convince her to sign up for group exercise classes at the Pratincola Fitness Complex. New year, new Larkin, right?
She's also looking for a new case—even though Anni keeps telling Larkin that she has to figure out how to solve something else besides murder. Otherwise, a lot of people in Pratincola, Iowa will have to die before Larkin can turn her detective business into a full-time job.
So Larkin decides to solve everything. Why are a group of college students trying to get Larkin's mother to resign as Dean? Who is the mysterious stranger who keeps hanging around Anni's apartment building? When is the right time to ask someone whether he's really your boyfriend?
Then Bonnie Cooper, a fitness instructor and social-media influencer who just landed her first major sponsorship, asks Larkin for help.
"I've been murdered," Bonnie says—even though she is very much alive.