---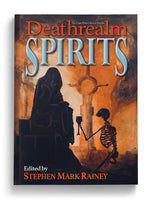 Deathrealm: Spirits – A Horror Anthology (Paperback)
Stephen Mark Rainey
SHIP DATE: OCTOBER 17, 2023
Any order containing a pre-order won't ship until all titles are available.
Paperback Edition
Comes in a custom cardboard shipping box
Approx 300 pages
6" x 9"
Full color cover
---
Deathrealm: Spirits, a new horror anthology edited by Stephen Mark Rainey, picks up exactly where Deathrealm magazine left off over 25 years ago!

20 all-new stories and poems by the most intense voices ever to weave their way into your waking world. From soft, dreadful whispers to high, chilling screams, these voices emerge from the darkness to lure and draw you back to their hellish home — The Land Where Horror Dwells.

Deathrealm magazine was one of the most celebrated horror publications of the 20th Century, and now its creator brings you a new volume of fiction and verse for the 21st Century and beyond. Deathrealm: Spirits features 20 new ghostly stories (and poems) by some of the best to have ever written in the genre, including...

Linda D. Addison
Meghan Arcuri
Larry Blamire
Maurice Broaddus
Heather Daughrity
Timothy G. Huguenin
Brian Keene
Ronald Kelly
Joe R. Lansdale
Kasey Lansdale
Eric LaRocca
Patricia Lee Macomber
Elizabeth Massie
Bridgett Nelson
Errick Nunnally
Jeff Oliver
Jessica Amanda Salmonson
Richard Thomas
Tony Tremblay
David Niall Wilson