---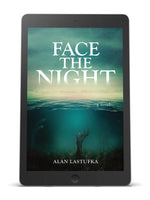 Sale
Face the Night: A Novel (ebook)
Alan Lastufka
Sale price $3.75 Regular price $4.99
eBook Edition - Also available in signed hardcover and paperback.
Approx. 340 pages
Purchase includes .epub and .pdf files
"This outstanding novel is reminiscent of early works by Stephen King and Peter Straub. An impressive, complex horror tale—two (rotting) thumbs up." - Kirkus Reviews, starred

★ 100 Best Indie Books of the Year – Kirkus Reviews (Starred)
★ WINNER 2022 Hoffer Award – Best Commercial Fiction
★ FINALIST 2022 American Fiction Awards – Best Supernatural Horror Novel
★ FINALIST 2022 Next Generation Indie Book Awards – Best New Horror Novel
★ FINALIST 2022 Da Vinci Eye Award
★ SEMI-FINALIST 2022 Publishers Weekly BookLife Prize – Thriller/Mystery
Also available from all major retailers, including Amazon, Barnes & Noble, and more
---
She has an eerie gift for drawing faces. Will one terrifying vision tear apart everything she loves?
Ohio, 1987. Adriana Krause hasn't slept in weeks. Desperate for work to keep her three-year-old son out of her powerful father's controlling clutches, her vivid illustrations land her a job as a police sketch artist. But the only image she can draw is the shockingly mangled visage from her recurring nightmare.
With her disturbed nights spiraling into violent episodes, Adriana's unique talents pull her into the tight-knit small-town's buried secrets. And now fearing she'll lose her little boy to the madness sucking her down, she's convinced that the monstrous likeness she can't stop scrawling holds the answer to a brutal crime.
Can this struggling mother solve a dark puzzle before her family is destroyed?
Face the Night is a bone-chilling supernatural thriller. If you like complex characters, lived-in settings, and tension dripping from every page, then you'll be transfixed by Alan Lastufka's gripping tale.
Buy Face the Night today to survive until dawn!