---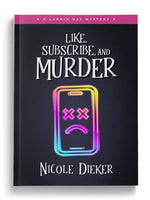 Like, Subscribe, and Murder: Larkin Day Mystery #2 (Paperback)
Nicole Dieker
Paperback Edition
This title is also available on Amazon.

---
Join Larkin, Ed, and Anni as they solve a social-media murder!
"Dieker builds strong and relatable characters… Full of surprises… Readers will be absorbed…"
– Publishers Weekly
"Dieker's prose is tight, sharp, witty, and enjoyable. The mysteries are well put together and fun… packed with some scares, thrills, and a fantastic cast."
– Horror DNA
Larkin Day is doing great. She's gainfully employed, she has a kinda-sorta boyfriend, and she let her best friend Anni convince her to sign up for group exercise classes at the Pratincola Fitness Complex. New year, new Larkin, right?
She's also looking for a new case—even though Anni keeps telling Larkin that she has to figure out how to solve something else besides murder. Otherwise, a lot of people in Pratincola, Iowa will have to die before Larkin can turn her detective business into a full-time job.
So Larkin decides to solve everything. Why are a group of college students trying to get Larkin's mother to resign as Dean? Who is the mysterious stranger who keeps hanging around Anni's apartment building? When is the right time to ask someone whether he's really your boyfriend?
Then Bonnie Cooper, a fitness instructor and social-media influencer who just landed her first major sponsorship, asks Larkin for help.
"I've been murdered," Bonnie says—even though she is very much alive.